The Gardens of St Barnabas
The Peace Garden ministry is to promote biodiversity among our gardens and create a habitat for all native species. It was created with that mission in mind.
Saint Barnabas Peace Garden: A Native Michigan Plant Garden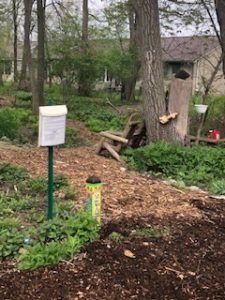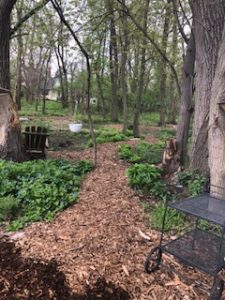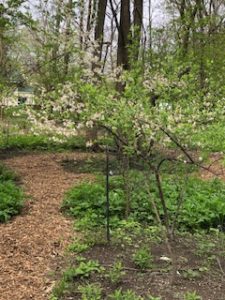 Native plants require less fertilizing, watering and spraying, and are a welcome addition to any garden.  So why don't more people plant them?
Most people are unaware of the existence of native plants, but a little research pays off big when planting Michigan native species.
SAVE WORK USING NATIVE PLANTS
Native plants have many benefits beyond labor saving, although that is one of the most immediate benefits to the gardener. Native plants are uniquely adapted to Michigan soil, climate and water levels; this means they are much more drought / freeze resistant. Their extensive root systems help break up clay, prevent soil erosion and water runoff, filter out pollutants, and rebuild soil. Furthermore, native plants require no fertilizer, winter protection, or additional watering after the first year. Native plants also stay green longer, thus slowing down wildfires.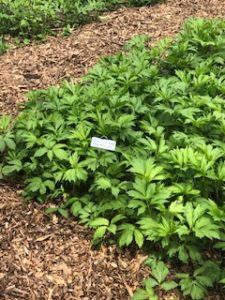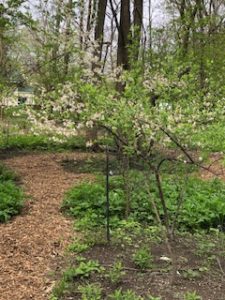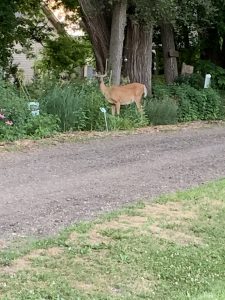 REDUCE PESTS AND WEEDS
Choosing native plants reduces the risk of non-native pests and invasive species entering the ecosystem. Native plants are less susceptible to disease and pest attacks, and are much less invasive. Most common weeds are, in fact, non-native.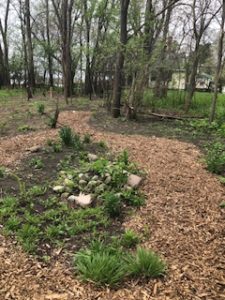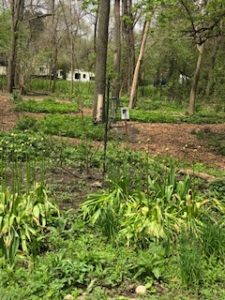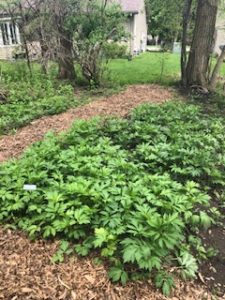 SUPPORT NATURAL HABITATS
By planting native Michigan species, we support our unique natural habitats, biodiversity and, in turn, support wildlife that depend on them. For example, a higher quality of food is provided for wildlife by native plants, leading to healthier wildlife. Many native wildlife species require very specific plants to survive, such as the Monarch butterfly, which needs several Milkweed species found in Michigan to live.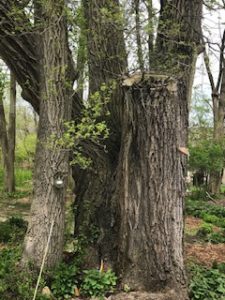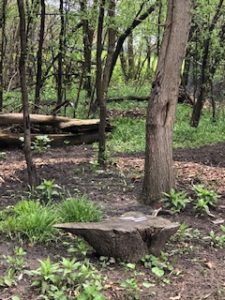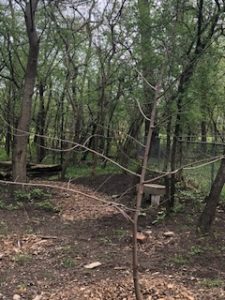 The Labyrinth
This unusual, meditative structure will be a welcome and wonderful addition to our church grounds and will flow into the Peace Garden.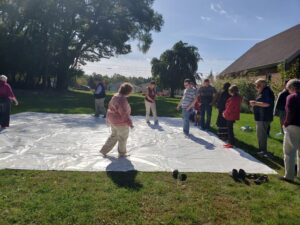 In October 2019, the congregation met with Maggie, a facilitator for groups contemplating building labyrinths.  She gave a talk on their history and use, and guided people through a walk on a large canvas labyrinth.  The canvas was laid out on the church lawn, and anyone could give it a try.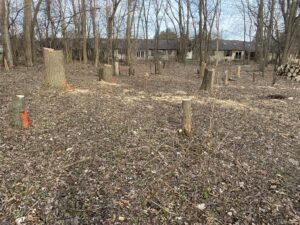 Land was cleared for the project in December 2019.  The planning committee met with the landscaper in January 2020, and bricks for the layout of the labyrinth were selected and ordered in March.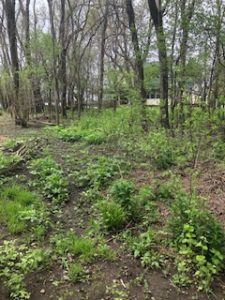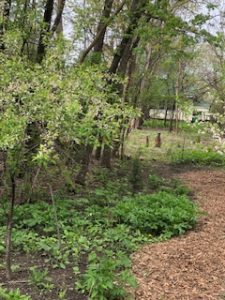 The coronavirus pandemic set back the work on the labyrinth in the early spring of 2020.  It is now scheduled to begin taking shape in July 2020, hopefully to be ready for use by late summer.
The Memorial Garden
In 2013, planning was started for a Memorial Garden.  A site was chosen on the west side of the church.  A design was worked out, using guidelines for an area designated for interments.  Plants were chosen, and the search began for a center feature, perhaps a statue.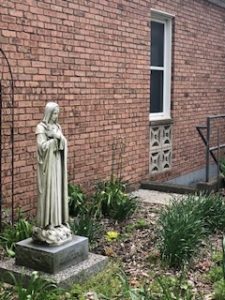 In June 2014, Fr David Glaser was at Arnet's Monuments in Ann Arbor, and mentioned to the owner that St Barnabas was planning a Memorial Garden and would need some kind of appropriate statue to include in it.  The owner, Caryl Arnet, had the answer to the need.  A statue of the Virgin Mary was available in the shop.  It had originally been designed for and placed at Mercywood Sanitarium, just west of Ann Arbor.  Serving the mentally ill from 1924-1986, the sanitarium was eventually demolished and the Arnets came into possession of the statue.  When they learned of St Barnabas' plan, they generously donated the statue to the church in honor of Larry and Marge Arnet.  The full story of the Mary statue can be found here.
The finished Garden was dedicated on May 15, 2015.  It has a peaceful setting, and has been the site of a number of interments of ashes.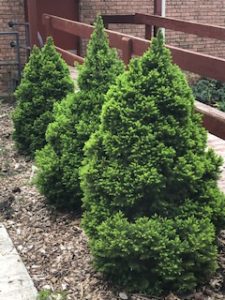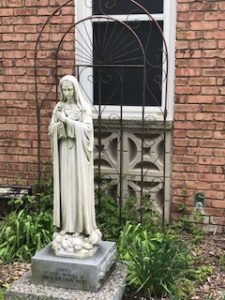 The Vegetable Garden
Why a vegetable garden?
We promote the value of sharing what we are blessed with.
Fresh food is essential for health, especially as food Insecurity in Washtenaw County ranges from 14-16%.
 The veggie garden program was originally created to distribute food to the hungry via Food Gatherers in Ann Arbor, and used the slogan "Plant a row for the hungry."
St Barnabas wanted to serve as an example to encourage community members to also plant a row to share.   Space on the street-facing part of the church grounds was selected to highlight this desire.
 The program evolved  as others (including local farmers) did share, and  as distribution sites became available in Chelsea.   Faith in Action (an arm of Food Gatherers) opened a new building in Chelsea in 1989.  Hearts Community Service also distributed food, primarily via soup for the homeless in Ann Arbor.
Faith in Action gets fresh vegetables from the St Barnabas garden, supplemented with canned & dry goods throughout year.  The congregation is notified weekly of current most-needed items
 Essentials to grow food:
dirt (ie, growth medium, supplemented with compost and use of straw
water access
sun
gardener/s – now & future, with prior knowledge or teachable
access to seeds and/or plants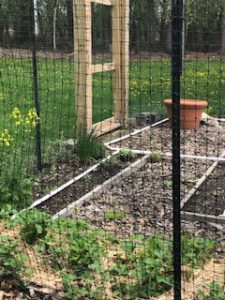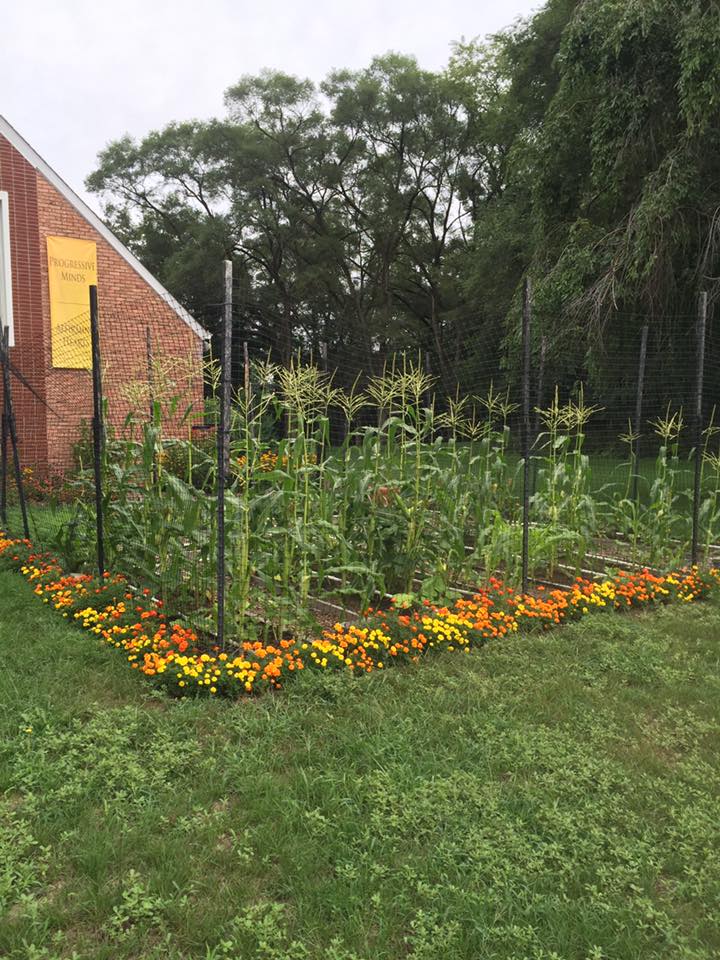 Improvements to the garden in recent years include
a fence with gate. This is due to our robust population of deer, rabbits, and other creatures
raised beds. These were installed to help improve drainage, make the best use of available space, ease of access, and to help clearly identify what  was planted where
a watering system. A path for the piping was designed, and ¾" PVC pipe was laid and glued.  A 55-gallon rain barrel was installed to collect water for free use, without any city-added chemicals.  The system distributes water at root level for close control.  It is still work in progress, being gradually refined.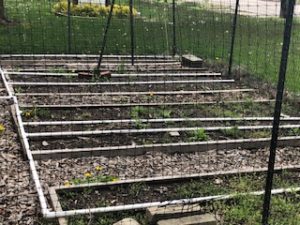 The Veggie Gardeners continue in their ministry each growing season, to expose others  to fresh food, new tastes, and the miracle of growth.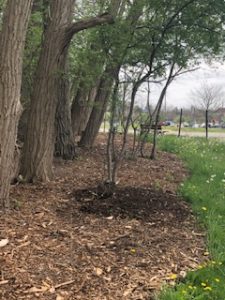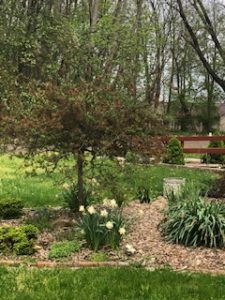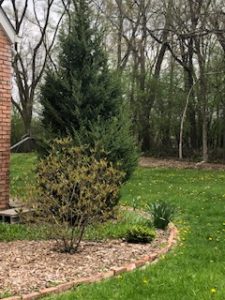 How wonderful for St Barnabas to cultivate such bountiful peace and beauty for our community to enjoy year round!